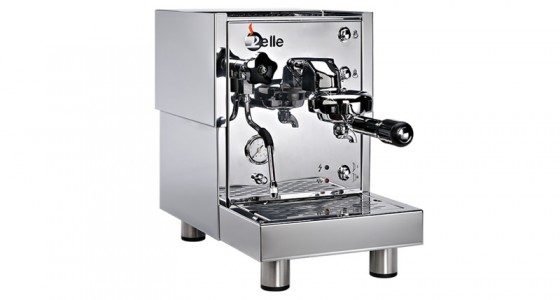 Compact espresso coffee machines, for the most demanding users.
- Compact espresso machine with a captivating design, matching the vivid corners with the gentle curves of the totally new brewing group, which gives to the design a gentle touch with its windy shape.
- AISI 304 stainless steel body.
- Chromed brass brewing group, heated up by two inserted heating elements.
- Brewing group optimal temperature assured by adjustable thermostat.
- Preinfusion through gigleur injector.
- Steam temperature controlled through clicson thermostat.
- Safety thermostat.
- Professional filter holder.
- Pump gauge.
- Steam/hot water spout with anti burn handle.
- Steam/hot water tap with knob for a gradual regulation of brewing.
- Strong and reliable, made out of the best stainless steel, brass and copper.
- Safety guaranteed by CE mark.
- Completely made in Italy.
TECNICAL DATA:
Electric supply
110-120 V / 50-60 Hz

230-240 V / 50-60 Hz
Power
1300 W
Boiler capacity
0,5 Lt
Water tank capacity
3 Lt
Width
250 mm
Depth
535 mm
Height
380 mm
Net weight
17,5 Kg
Gross weight
18,5 Kg