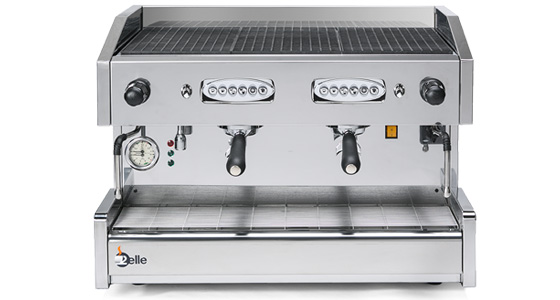 THE PERFECT SHAPE OF YOUR TASTE
Traditional espresso coffee machine, for the most demanding professionals.
- Captivating shape with vivid corners, in harmony with the last design trends.
- Stainless steel body.
- Termosiphonic water circulation.
- Electronic infusion.
- Automatic brewing groups rinsing.
- High water and steam output performances.
- 2 stainless steel steam wonds ed 1 water wond.
- Automatic coffee and water doses.
- Empty boiler signaling light.
- Empting boiler tap.
- Pass from espresso to tall cup (13 cm).
- Safety brewing groups buttons.
TECNICAL DATA:
1 Gr.
2 Gr.
3 Gr.
Electric supply
110-120 V / 50-60 Hz
230-240 V / 50-60 Hz
Power
1800 W
3000 W
4000 W
Boiler capacity
3 Lt
12 Lt
16 Lt
Width
570 mm
710 mm
920 mm
Depth
540 mm
540 mm
540 mm
Height
520 mm
520 mm
520 mm
Net weight
47 Kg
57 Kg
70 Kg
Gross weight
51 Kg
61 Kg
75 Kg
Pakaging
45x62x60 cm
75x62x60 cm
92x62x60 cm
Water inlet
G 3/8″
G 3/8″
G 3/8″
Water outlet
17 mm G 3/4″
17 mm G 3/4″
17 mm G 3/4″